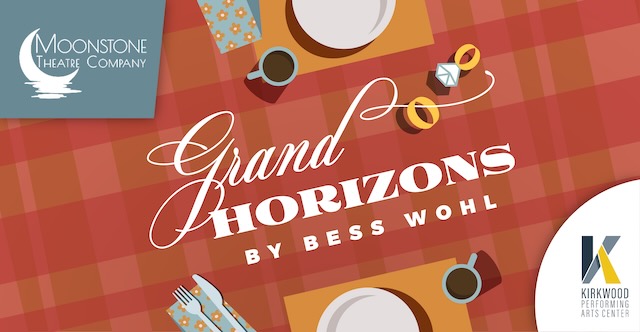 Audition Announcement: Grand Horizons
Audition Announcement: Grand Horizons
Moonstone Theatre Company is pleased to announce auditions for the Grand Horizons by Bess Wohl directed by Sharon Hunter. This production will be performed at the Strauss Black Box at the Kirkwood Performing Arts Center. Our casting process will be auditions via taped video submission, followed by in-person callbacks at a date to be determined.
Casting information:
Seeking AEA and non AEA actors. Only seeking local St. Louis Missouri hires.
All positions are paid. Pay range is AEA scale for Special Appearance contract and for non AEA $500-$700 flat fee for the project.
Moonstone Theatre Company is an Equal Opportunity Employer and encourages inquiries about these opportunities from a broad spectrum of candidates reflecting the diversity of our community we serve.
We welcome trans and genderqueer performers.
All actors and production personnel must have current COVID vaccinations and provide a copy of vaccination card.
General schedule information:
First Rehearsal:  2-21-23
Opening: 3-16-23
Closes: 4-2-23
Rehearsal schedule:
Our regular schedule is typically, weeknights 6 pm-10 pm Weekends 11 am-4 pm, with one day off per week. Monday is typically the scheduled day off
*Rehearsal schedule is subject to change
Performance schedule:
Thursday – Saturday 7:30pm
Sunday 2pm
Please submit one contemporary comic monologue and one contemporary dramatic monologue not to exceed 3 min
Character breakdowns:
Bill – 70-82 lives in Grand Horizons. Nancy's husband (for 50 years). Grumpy and a little resigned. Former pharmacist. Working on his stand-up routine. Specializes in crude and dirty jokes. Notices more than he lets on. Deflects earnestness. Scared of dying alone.
Nancy – 70-82 lives in Grand Horizons. Bill's wife (for 50 years). Kind, giving, and resourceful. Willing to speak her mind. Former librarian. Now the habitual caretaker of Bill. Eager to feel something, anything. Of late, very invested in the Syrian refugee crisis.
Ben – 35-45 Nancy and Bill's eldest son. Largely financially responsible for his parents. An attorney. Worried about his marriage/marriage in general.
Brian – 33-40 Nancy and Bill's second son. High school drama teacher. High-strung and lonely. Worried about the spring musical, "Oklahoma!
Jess – 30-39 Ben's wife. Pregnant with her first child. Newly credentialed family therapist (and sometimes it shows). Strong-willed and outspoken.
Tommy – 25-38 Brian's late-night hookup. Flirty and blunt. A little freaky.
Carla – 62-68 Cheerful, frumpy. Warm with an easy laughter, the kind of person who wears themed outfits for holidays.
Taped video submission material required:
In terms of Videos – filmed in a horizontal background, please slate your name/pronouns. Also please slate the monologues you are performing and the source material.  Please shoot against a white/light background.
Please email your headshot and resume to [email protected] Submissions should include a video link for viewing either YouTube or Vimeo.  Please note that the video should be listed as "Unlisted" rather than private on YouTube and as "Anyone" or "people with a private link" on Vimeo. If your video requires a password, please include it in your email.  Please do not share via We Transfer, Google Drive, Dropbox, iCloud or any other file-sharing platforms that require downloading to view.
No phone calls please.
Deadline for audition submissions is: January 2, 2023
Submit videos, headshot and resume to [email protected]
Casting Authority:  Sharon Hunter – Director/Artistic Director