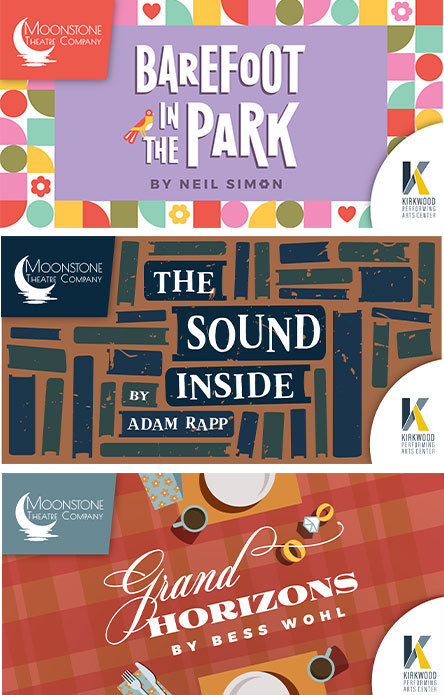 Moonstone Theatre Company Announces Three-Show Lineup, Lower Ticket Prices for 2022-2023 Season
Theatre Company Strives to Ensure its Art is Accessible,
Especially in this Time of Inflation

LOUIS / September 7, 2022 – Moonstone Theatre Company is proud to announce its full lineup for the 2022-23 season at the Kirkwood Performing Arts Center (KPAC, 210 E. Monroe Ave, Kirkwood). The season will kick off with Barefoot in the Park, October 27 – November 13, and continue with The Sound Inside, January 26 – February 12, and Grand Horizons, March 16 – April 2. Each production has a 12-performance run.
"The second season of Moonstone Theatre Company will feature both new plays as well as one classics of the American Theatre," said Sharon Hunter, founder and producing artistic director of Moonstone Theatre Company.  "We will explore themes of humans attempting to continue to understand each other. Sometimes in moments of great humor and sometimes in moments of great pathos. One thing is certain – this season is about the human spirit and empathy."
Moonstone also announces lower ticket prices for its upcoming, three-show season. The theatre's adult general admission ticket prices are now $40, which is down 20% from last season.
"Our goal is to make the art we put on our stage as accessible as possible," added Hunter. "Accessible theatre is a passion of mine and especially important at this time of rising inflation. This 20 percent reduction can make the difference in seeing live theatre or not being able to afford it."
The season kicks off with Barefoot in the Park by Neil Simon. Hunter is directing this romantic comedy that tells the story of Paul and Corie Bratter, who are newlyweds in every sense of the word. He's a straight-as-an-arrow lawyer, and she's a free spirit always looking for the latest kick. Their new apartment is her most recent find – too expensive with bad plumbing and in need of a paint job. After a six-day honeymoon, they get a surprise visit from Corie's loopy mother and decide to play matchmaker during a dinner with their neighbor-in-the-attic, Velasco, where everything that can go wrong does. Paul just doesn't understand Corie, as she sees it. He's too staid, too boring.  She just wants him to be a little more spontaneous – and running "barefoot in the park" would be a start.
The Sound Inside by Adam Rapp opened on Broadway in 2019 to rave reviews. This new play is a gripping drama centers around a brilliant Ivy League professor Bella Baird, a mysterious student Christopher Dunn and a troubling favor.  Bella begins to mentor the brilliant but enigmatic Christopher, and the two form an unexpectedly intense bond. As their lives and the stories they tell about themselves become intertwined in unpredictable ways, Bella makes a surprising request of Christopher that neither knows if he can fulfill. Brimming with suspense, Rapp's riveting play explores the limits of what one person can ask of another.
Moonstone will close its season with another new Broadway hit Grand Horizons by Bess Wohl. The comedy is Sophisticated, funny, delightfully – and sometimes provocatively – honest, as it takes an intimate look at the unpredictable and enduring nature of love. Happily married for 50 years, Bill and Nancy practically breathe in unison; they anticipate each other's sighs, sneezes and ends of sentences. But just as they settle into their new retirement home in Florida, Nancy wants out. As their two adult sons struggle to cope with the news, they're forced to question everything they assumed about the people they thought they knew best.
Renewal for the current Moonstone Theatre Company subscribers will begin on Wednesday, September 7, by calling 314-412-3850.
Single tickets and new subscriptions will go on sale at 10 a.m. on Monday, September 12. Visit moonstonetheatrecompany.com for both single tickets and new subscription packages.
Show times are Thursdays through Saturdays at 7:30 p.m. and Sundays at 2 p.m.
The only exception is the last weekend of Barefoot in the Park, when there is no show on Friday, November 11, two shows on Saturday, November 12, at 3 and 7:30 p.m. The closing performance on Barefoot in the Park is on Sunday, November 13, at 2 p.m.